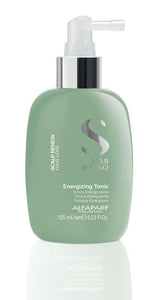 Energising scalp tonic
€1490

€14,90
Tax included.
---
---
This range comes with a variety of shampoo option to accommodate all of your scalp and hair loss needs. It is designed for scalp issues , temporary hair loss, dandruff and sebum to sensitive skin.
The range of shampoo in this collection helps restore your scalps health resulting in healthier, stronger hair.
Sulfate-free
vegan
unisex
re-densifies and stimulates hair growth. 
when used along side the energizing tonic and lotion you will increase density by 8 times within just 6 washes.
This shampoo is comprised of 4 ranges:
Hair loss
Re-balance dandruff 
Re-balance oily scalp
relief range